History
Written by Rick Trujillo and edited by Cave Dog
Gerry Roach of Boulder has evolved as the historian for this event and much of the following historical information is from his Colorado Fourteeners guidebook, Colorado's Fourteeners: From Hikes to Climbs: Second Edition (1999). As you study the statistics below, keep in mind that each of these Fourteeners speed record efforts was a milestone for its day. In my opinion, the early efforts are no less impressive than the latest ones in that early on: speed climbing had never been attempted; there were few or no guidebooks listing and describing access to the individual peaks; topographic map coverage was still at late nineteenth century status for many peaks; and many peaks had virtually no road or trail access. With the steady publication of detailed guidebooks and maps, with the evolution of now beaten pathways, and with the present greater public perception, it is only natural that the latest efforts are much faster than the earlier ones. It should also be pointed out that the controversial records are still records, just records made by using different guidelines.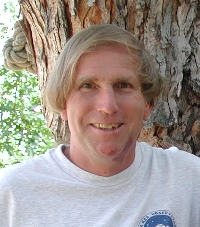 Gerry Roach
Author of a Fourteener guidebook
The history of the speed record begins in 1960, when Cleve McCarty climbed the then recognized 52 Fourteeners in 52 days. That record stood for 14 years until 1974 when the Climbing Smiths, including Father George Smith and sons Flint, Quade, Cody, and Tyle, climbed the 54 Fourteeners in 33 days. They then continued on to California and Washington and climbed the 68 Fourteeners in the continental United States in 48 days, a record which still stands. The Climbing Smiths set the 3,000 foot standard, or Colorado Rule, which has since been followed by most Fourteeners speed climbers.
The Climbing Smiths' record did not last for long. In 1976, Steve Boyer climbed all 54 peaks in 22 days. Four years later, in 1980, Dick Walkers finally beat the 20 day barrier and climbed them all in 18 days, 15 hours, 40 minutes. This record would stand for 10 years. In 1990 Quade and Tyle Smith of the 1974 Climbing Smiths, with their detailed knowledge of the Fourteeners, regained the speed record with a 16 day, 21 hour, 35 minute effort. They were careful to adhere to the 3,000 foot or Colorado rule. Except for arranging for others to transfer their truck from the start to the end of five specific traverses, the Smith brothers were essentially selfreliant in this effort. This was the last record set without the aid of a support crew.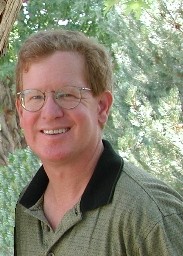 Tyle Smith
At age eight, the second youngest person to finish all of the Fourteeners and the record holder for an unsupported effort.
In 1992, runners began getting involved. Ultramarathoner Adrian Crane ran on the trails and lowered the record to 15 days, 17 hours, 19 minutes. Adrian also followed the 3,000 foot rule.
In 1993, Jeff Wagener summitted 55 Colorado Fourteeners, including Challenger Point, in 14 days, 3 hours.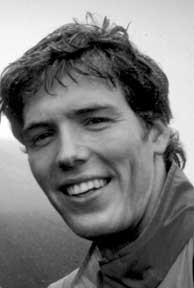 Jeff Wagener
In 1990, at the age of 21 and 53, Jeff and his dad, Jerry Wagener, set the record for the youngest and oldest highpointers, reaching the highest point in every state.
Click Here for Jeff Wagener's M4 Story
In 1995, a pair of mountain runners, Rick Trujillo of Ouray, and Ricky Denesik of Telluride took on the task and after many route finding mistakes in generally bad weather, finished in 15 days, 9 hours, 55 minutes. The two Ricks (Rick 2 ) were careful to observe the Colorado Rule, gaining 156,130 feet in 337 miles during the effort.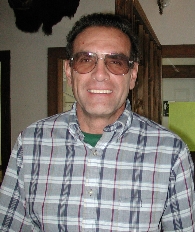 Rick Trujillo
A mountain running legend
In August of 1997, Rick 2 tried it again, this time with considerable more experience and careful route planning behind them. Rick Trujillo dropped out of the attempt on peak 39, Grays Peak, in a raging sleet snowstorm which was characteristic of that summer's stronger than normal, El Nino enhanced, Colorado monsoon. Denesik, however, continued onward and set a new record of 14 days, 0 hours, 16 minutes, gaining 153,215 feet in 314 miles, along the way. As with his 1995 effort, he adhered strictly to the 3,000 foot rule. If not for the occurrence of an ill timed storm on his last peak, Longs Peak, Denesik would have been the first person to break the 14 day barrier.
In August-September of 1999, Andrew Hamilton of Boulder shaved 1 hour and 28 minutes off the 1997 record, finishing all 55 peaks, including Challenger Point, in 13 days, 22 hours, 48 minutes. Andrew also experienced wet, rotten weather during much of his effort but, fortunately, the seasonal monsoon stopped abruptly near the end of his saga. He was not a runner like some previous record holders, but was extremely persistent and climbed about 18 peaks in darkness. He was relentless, spending much more time on the trail, 66 percent, than others before him. He persevered through ankle and foot pain, blisters, and bleeding fingertips. Many times he had to descend the trail backwards because of severe knee pain. He also continued despite many routefinding troubles on and off the trail, a motor bike wreck, worn down brakes on his mountain bike and vehicle, snow and ice on the Class 4 routes, and many on the fly route changes. Many times he was stuck sleeping on the side of mountains and driving during the day. At one point, he hallucinated about bickering elves. To his credit, without stopping the clock, he helped a mountain rescue helicopter locate a dead mountain climber he found on Eolus.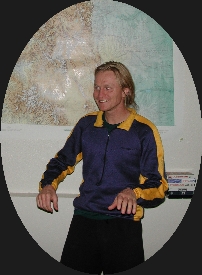 Andrew Hamilton
He is striving for a new selfpowered record.

The summer of 2000 has proven to be the most exciting hiking season for the record. In July, with overlapping efforts, two challengers, Ricky Denesik and Danelle Ballengee both made new records despite a running saga about whether they would be able to climb the recently closed Culebra Peak. After much finagling of his order of climbs, in midstream, Ricky was granted permission for access to Culebra. Finally having an attempt in good weather, Ricky went on to complete a phenomenal third record with 12 days, 15 hours, 35 minutes.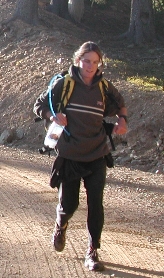 Danelle Ballengee
Women's record holder
Despite much bad weather and also having difficulties gaining access to Culebra, Danelle Ballengee proceeded to set the first women's record with an impressive 14 days, 14 hours, 49 minutes.
Adding to the drama, late in the hiking season of 2000 another competitor, Cave Dog, put his hat into the ring. After two and a half years of scouting and training he was able to fine tune the course to 138,558 vertical feet. He experienced strong winds on 12 mountains, lightening on only 3, falling snow on 4, snow on the ground on 12, and 5 tedious mountains with a coating of ice. However, he virtually never stopped, doing 29 percent of the climbing at night and spending 67 percent of his time on the trail. Following tradition, he meticulously followed the Colorado Rule. With the aid of a well disciplined 5 member support crew and 6 different vehicles, he set the current record of 10 days, 20 hours, 26 minutes.