Compiled by The Dog Team
This page is designed to give the public as close to a real time progress report as possible. Unfortunately, there is always a lag between Cave Dog's progress and the information that comes out from the field. The Dog Team will try its best to give the public accurate and timely information.

The Dog Team invites anyone that has mountaineering or hiking experience to join Cave Dog on the trail. This page can be used to monitor Cave Dog's progress in order to make an educated guess at where one might see him passing through. Keep in mind that hiking in the Green Mountains is a serious endeavor. One should not attempt hiking without the proper gear, experience, and weather prediction. To make it easier to find Cave Dog, one may monitor The Dog Team's communication on family service channel 2 code 0. However, if there is too much traffic on this channel, The Dog Team will switch channels and this resource will not be available for the public. One of the easiest ways to find The Dog Team is to look for The Kennel, The Dog Team's motorhome, at road crossings.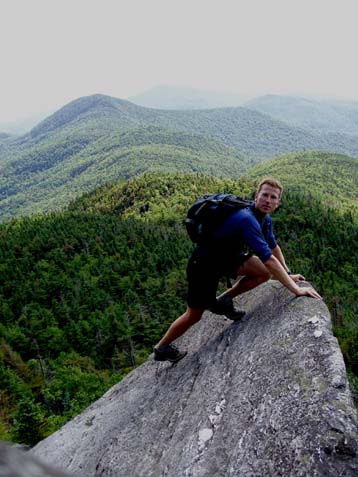 Cave Dog on South Ridge of Mansfield's Forehead
The Long Trail
#
Name
TIME OF DAY
SPLIT TIME
(hours, minutes)
CUMULATIVE RACE TIME
(days, hours, minutes)
0

Canadian Border

6/23/04 4:15 am





0 minutes


1

Jay Peak

6/23/04 7:38 am

3 hours, 23 minutes

3 hours, 23 minutes

2

Haystack Mountain
6/23/04 11:02 am

3 hours, 24 minutes

6 hours, 47 minutes

3

Ritterbush Lookout

6/23/04 2:02 pm

3 hours, 0 minutes

9 hours, 47 minutes

4

Laraway Mountain

6/23/04 5:18 pm

3 hours, 16 minutes

13 hours, 3 minutes

5

Lamoille River Bridge

6/23/04 7:54 pm

2 hours, 36 minutes

15 hours, 39 minutes

6

Madonna Peak

6/24/04 12:04 am

4 hours, 10 minutes

19 hours, 49 minutes

7

Wallace Cutoff

6/24/04 6:14 am

6 hours, 10 minutes

1 day, 1 hour, 59 minutes

8

Harrington's View

6/24/04 3:45 am

3 hours, 45 minutes

1 day, 5 hours, 44 minutes


9


Duxbury Road

6/24/04 1:47 pm

3 hours, 48 minutes

1 day, 9 hours, 32 minutes

10

Montclair Glen Lodge

6/24/02 5:35 pm

3 hours, 48 minutes

1 day, 13 hours, 20 minutes

11

Appalachian Gap

6/24/04 9:55 pm

4 hours, 20 minutes

1 day, 17 hours, 40 minutes

12

Battell Trail Junction

6/25/04 5:23 am

7 hours, 28 minutes

2 days, 1 hour, 8 minutes

13

Clark Brook Trail Junction

6/25/04 10:06 am

4 hours, 43 minutes

2 days, 5 hours, 51 minutes

14

Middlebury Snow Bowl

6/25/04 1:18 pm

3 hours, 12 minutes

2 days, 9 hous, 03 minutes

15

Sunrise Shelter

6/25/04 4:45 pm

3 hours, 27 minutes

2 days, 12 hours, 30 minutes

16

Green Road

6/25/04 8:13 pm

3 hours, 28 minutes

2 days, 15 hours, 58 minutes

17

Churchill Scott Shelter

6/26/04 1:51 am

5 hours 38 minutes

2 days, 21 hours, 36 minutes

18

Governor Clement Shelter

6/26/04 5:00 am

3 hours, 9 minutes

3 days, 0 hours, 45 minutes

19

Patch Hollow

6/26/04 8:38 am

3 hours, 38 minutes

3 days, 4 hours, 23 minutes

20

USFS Road 10

6/26/04 12:30 pm

3 hours, 52 minutes

3 days, 8 hours, 15 minutes

21

Peru Peak

6/26/04 3:54 pm

3 hours, 24 minutes

3 days, 11 hours 39 minutes

22

Spruce Peak

6/26/04 7:33 pm

3 hours, 59 minutes

3 days, 15 hours, 18 minutes

23

Stratton Mountain Fire Tower

6/27/04 12:38 am

5 hours, 5 minutes

3 days, 20 hours, 23 minutes

24

Lydia's Rest

6/27/04 5:26 am

4 hours, 48 minutes

4 days, 1 hour, 11 minutes

25

Little Pond Lookout

6/27/04 8:57 am

3 hours, 31 minutes

4 days, 4 hours, 42 minutes

26

Congdon Shelter







27

Massachusetts Border

6/27/04 5:30 pm



4 days, 13 hours, 15 minutes