Times
Compiled by The Dog Team




This page was designed to give the public as close to a peak by peak real time progress report as possible. Unfortunately, there is always a lag between Cave Dog's progress and the information that comes out from the field. The Dog Team tried its best to give the public accurate and timely information.

During the challenge, The Dog Team invited anyone that had mountaineering or hiking experience to join Cave Dog on the trail. This page could be used to monitor Cave Dog's progress in order to make an educated guess at where one might see him passing through. Although unlikely, it must be recognized that during these challenges the route could change at any time. Keep in mind that hiking in the White Mountains is a serious endeavor. One should not attempt hiking without the proper gear, experience, and weather prediction. The Dog Team also shared its communication frequency of family service channel 4 code 8 to make it easier for the public to catch up with The Dog Team in the field.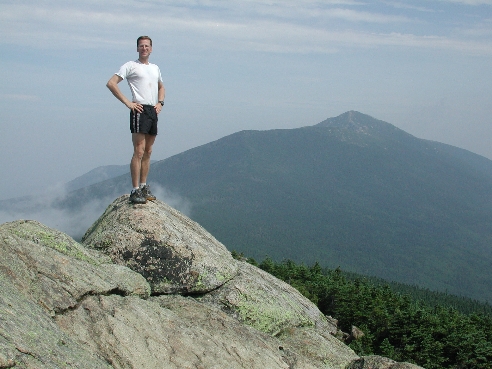 Cave Dog atop Liberty
The White Mountain Four Thousand Footers
#
Name
TIME OF DAY
SPLIT TIME
(hours, minutes)
CUMULATIVE RACE TIME
(days, hours, minutes)
Ravine Lodge Trailhead

8/9/2 5:00 am





0 minutes


Moosilauke Summit
8/9/2 6:04 am

1 hour, 4 minutes

1 hour, 4 minutes


1

Ravine Lodge Trailend
8/9/2 6:55 am

51 minutes

1 hour, 55 minutes

Waterville Valley Ski Area Trailhead

8/9/2 7:33 am

38 minutes

2 hours, 33 minutes




Tecumseh Summit

8/9/2 8:10 am

37 minutes

3 hours, 10 minutes

2
Waterville Valley Ski Area Trailend

8/9/2 8:37 am

27 minutes

3 hours, 37 minutes

Thornton Gap Trailhead

8/9/2 8:47 am

10 minutes

3 hours, 47 minutes




Osceola Summit

8/9/2 9:37 am

50 minutes

4 hours, 37 minutes

3

Saddle

8/9/2 9:46 am

9 minutes

4 hours, 46 minutes



East Osceola Summit

8/9/2 9:54 am

8 minutes

4 hours, 54 minutes

4

Greeley Ponds Trailend

8/9/2 10:39 am

45 minutes

5 hours, 39 minutes



Hancock Overlook Trailhead
8/9/2 10:44 am

5 minutes

5 hours, 44 minutes



South Hancock Summit

8/9/2 11:53 am

1 hour, 9 minutes

6 hours, 53 minutes

5

Saddle

8/9/2 12:06 pm

13 minutes

7 hours, 6 minutes



Hancock Summit

8/9/2/ 12:14 pm

8 minutes

7 hours, 14 minutes

6

Hancock Overlook Trailend

8/9/2 1:21 pm

1 hour, 7 minutes

8 hours, 21 minutes



Passaconaway Campground Trailhead

8/9/2 1:37 pm

16 minutes

8 hours, 37 minutes



Passaconaway Summit

8/9/2 2:59 pm

1 hour, 22 minutes

9 hours, 59 minutes

7

Saddle

8/9/2 3:24 pm

25 minutes

10 hours, 24 minutes



Whiteface Summit
8/9/2 4:05 pm

41 minutes

11 hours, 5 minutes

8

Low Point

8/9/2 4:19 pm

14 minutes

11 hours, 19 minutes



Middle Tripyramid Summit
8/9/2 5:18 pm

59 minutes

12 hours, 18 minutes

9

Saddle

8/9/2 5:24 pm

6 minutes

12 hours, 24 minutes



North Tripyramid Summit

8/9/2 5:33 pm

9 minutes

12 hours, 33 minutes

10

Pine Bend Brook Trailend

8/9/2 6:47 pm

1 hour, 14 minutes

13 hours, 47 minutes



Old Man of the Mountain Trailhead

8/9/2 7:31 pm

44 minutes

14 hours, 31 minutes



Cannon Summit

8/9/2 8:18 pm

47 minutes

15 hours, 18 minutes

11

Low Point
8/9/2 9:07 pm

49 minutes

16 hours, 7 minutes



North Kinsman Summit

8/9/2 10:03 pm

56 minutes

17 hours, 3 minutes

12

Saddle
8/9/2 10:12 pm

9 minutes

17 hours, 12 minutes



South Kinsman

8/9/2 10:30 pm

18 minutes

17 hours, 30 minutes

13

Pinestead Lodge Trailend
8/9/2 12:50 pm

2 hours, 20 minutes

19 hours, 50 minutes



Whitehouse Bridge Trailhead

8/10/2 1:27 am

37 minutes

20 hours, 27 minutes



Flume Summit

8/10/2 3:38 am

2 hour, 11 minutes

22 hours, 38 minutes

14

Saddle

8/10/2 3:58 am

20 minutes

22 hours, 58 minutes



Liberty Summit

8/10/2 4:25 am

27 minutes

23 hours, 25 minutes

15

Saddle

8/10/2 5:10 am

45 minutes

1 day, 0 hours, 10 minutes



Lincoln Summit

8/10/2 6:42 am

1 hour, 32 minutes

1 day, 1 hour, 42 minutes

16

Saddle
8/10/2 6:53 am

11 minutes

1 day, 1 hour, 53 minutes



Lafayette Summit

8/10/2 7:03 am

10 minutes

1 day, 2 hours, 3 minutes

17

Low Point

8/10/2 8:43 am

1 hour, 40 minutes

1 day, 3 hours, 43 minutes



Owl's Head Summit

8/10/2 9:45 am

1 hour, 2 minutes

1 day, 4 hours, 45 minutes

18

Low Point

8/10/2 10:13 am

28 minutes

1 day, 5 hours, 13 minutes



Garfield Summit

8/10/2 12:56 am

2 hours, 43 minutes

1 day, 7 hours, 56 minutes

19

Low Point

8/10/2 1:50 pm

54 minutes

1 day, 8 hours, 50 minutes



Galehead Summit

8/10/2 2:21 pm

31 minutes

1 day, 9 hours, 21 minutes

20

Galehead Hut

8/10/2 2:31 pm

10 minutes

1 day, 9 hours, 31 minutes



South Twin Summit

8/10/2 3:01 pm

30 minutes

1 day, 10 hours, 1 minute

21

Saddle

8/10/2 3:17 pm

16 minutes

1 day, 10 hours, 17 minutes



North Twin Summit

8/10/2 3:28 pm

11 minutes

1 day, 10 hours, 28 minutes

22

Low Point

8/10/2 4:45 pm

1 hour, 17 minutes

1 day, 11 hours, 45 minutes



West Bond Summit

8/10/2 5:03 pm

18 minutes

1 day, 12 hours, 3 minutes

23

Saddle

8/10/2 5:13 pm

10 minutes

1 day, 12 hours, 13 minutes



Bond Summit

8/10/2 5:31 pm

18 minutes

1 day, 12 hours, 31 minutes

24

Saddle

8/10/2 5:44 pm

13 minutes

1 day, 12 hours, 44 minutes



Bondcliff Summit

8/10/2 5:58 pm

14 minutes

1 day, 12 hours, 58 minutes

25

Low Point

8/10/2 6:35 pm

37 minutes

1 day, 13 hours, 35 minutes



Zealand Summit

8/10/2 7:55 pm

1 hour, 20 minutes

1 day, 14 hours, 55 minutes

26

Low Point

8/10/2 9:17 pm

1 hour, 22 minutes

1 day, 16 hours, 17 minutes



Hale Summit

8/10/2 12:03 am

2 hours, 46 minutes

1 day, 19 hours, 3 minutes

27

Zealand River Trailend

8/11/2 1:14 am

1 hour, 11 minutes

1 day, 20 hours, 14 minutes



Crawford Depot Trailhead

8/11/2 3:10 am

1 hour, 56 minutes

1 day, 22 hours, 10 minutes



Tom Summit

8/11/2 4:55 am

1 hour, 45 minutes

1 day, 23 hours, 55 minutes

28

Saddle

8/11/2 5:48 am

53 minutes

2 days, 0 hours, 48 minutes



Field Summit

8/11/2 6:22 am

34 minutes

2 days, 1 hour, 22 minutes

29

Saddle

8/11/2 6:32 am

10 minutes

2 days, 1 hour, 32 minutes



Willey Summit

8/11/2 7:03 am

31 minutes

2 days, 2 hours, 3 minutes

30

Willey House Station Site Trailend

8/11/2 8:09 am

1 hour, 6 minutes

2 days, 3 hours, 9 minutes



Sawyer River Trailhead

8/11/2 8:39 am

30 minutes

2 days, 3 hours, 39 minutes



Carrigain Summit

8/11/2 10:53 am

2 hours, 14 minutes

2 days, 5 hours, 53 minutes

31

Sawyer River Trailend

8/11/2 12:45 pm

1 hour, 52 minutes

2 days, 7 hours, 45 minutes



Elephant Head Trailhead

8/11/2 1:16 pm

31 minutes

2 days, 8 hours, 16 minutes



Jackson Summit

8/11/2 2:24 pm

1 hour, 8 minutes

2 days, 9 hours, 24 minutes

32

Mitzpah Hut

8/11/2 2:48 pm

24 minutes

2 days, 9 hours, 48 minutes



Pierce Summit

8/11/2 3:23 pm

35 minutes

2 days, 10 hours, 23 minutes

33

Saddle

8/11/2 3:38 pm

15 minutes

2 days, 10 hours, 38 minutes



Eisenhower Summit

8/11/2 4:04 pm

26 minutes

2 days, 11 hours, 4 minutes

34

Low Point

8/11/2 4:27 pm

23 minutes

2 days, 11 hours, 27 minutes



Monroe Summit
8/11/2 5:09 pm

42 minutes

2 days, 12 hours, 9 minutes

35

Low Point

8/11/2 5:44 pm

35 minutes

2 days, 12 hours, 44 minutes



Isolation Summit
8/11/2 7:50 pm

2 hours, 6 minutes

2 days, 14 hours, 50 minutes

36

Low Point

8/11/2 9:57 pm

2 hours, 7 minutes

2 days, 16 hours, 57 minutes



Washington Summit

8/11/2 11:14 pm

1 hour, 17 minutes

2 days, 18 hours, 14 minutes

37

Low Point

8/12/2 1:44 am

2 hours, 30 minutes

2 days, 20 hours, 44 minutes



Jefferson Summit

8/12/2 2:25 am

41 minutes

2 days, 21 hours, 25 minutes

38

Saddle

8/12/2 2:35 am

10 minutes

2 days, 21 hours, 35 minutes



Adams Summit

8/12/2 4:10 am

1 hour, 35 minutes

2 days, 23 hours, 10 minutes

39

Madison Hut
8/12/2 5:28 am
1 hour, 18 minutes

3 days, 0 hours, 28 minutes



Madison Summit


8/12/2 5:50 am


22 minutes

3 days, 0 hours, 50 minutes

40

Appalachia Trailend

8/12/2 7:44 am

1 hour, 54 minutes

3 days, 2 hours, 44 minutes



Wildcat Ski Area Trailhead

8/12/2 8:26 am

42 minutes

3 days, 3 hours, 26 minutes



Wildcat D Summit
8/12/2 9:29 am

1 hour, 3 minutes

3 days, 4 hours, 29 minutes

41

Low Point

8/12/2 9:36 am

7 minutes

3 days, 4 hours, 36 minutes



Wildcat Summit

8/12/2 10:11 am

35 minutes

3 days, 5 hours, 11 minutes

42

Saddle
8/12/2 10:31 am

20 minutes

3 days, 5 hours, 31 minutes



Carter Dome Summit

8/12/2 12:00 pm

1 hour, 29 minutes

3 days, 7 hours, 0 minutes

43

Low Point

8/12/2 12:24 pm

24 minutes

3 days, 7 hours, 24 minutes



South Carter Summit

8/12/2 12:48 pm

24 minutes

3 days, 7 hours, 48 minutes

44

Saddle


8/12/2 12:54 pm


6 minutes

3 days, 7 hours, 54 minutes



Middle Carter Summit

8/12/2 1:11 pm

17 minutes

3 days, 8 hours, 11 minutes

45

Low Point

8/12/2 3:06 pm ?

1 hour, 55 minutes

3 days, 10 hours, 6 minutes



Moriah Summit


8/12/2 3:42 pm


36 minutes

3 days, 10 hours, 42 minutes

46
Gorham Trailend

8/12/2 5:17 pm ?

1 hour, 35 minutes

3 days, 12 hours, 17 minutes



Cabot Trailhead

8/12/2 6:29 pm

1 hour, 12 minutes

3 days, 13 hours, 29 minutes



Cabot Summit


8/12/2 7:29 pm


1 hour, 0 minutes

3 days, 14 hours, 29 minutes

47

Cabot Trailend

8/12/2 8:24 pm

55 minutes

3 days, 15 hours, 24 minutes



Jefferson Trailhead

8/12/2 9:01 pm

37 minutes

3 days, 16 hours, 1 minute

48

Waumbek Summit

8/12/2 10:21 pm

1 hour, 20 minutes

3 days, 17 hours, 21 minutes